A Unique Birthday Party Experience -

Make Your Own Pop Video...

FULLY COVID-19 COMPLIANT

See yourself or your children as a Pop Princess or a Wannabe Rockstar?
Then we can make this happen. Working with a team of professionals with extensive experience in the entertainment industry, you will have a great time shooting your own pop video to the song of your choice. And it doesn't end there... We take the footage away and work our magic in the editing suite.

Within a week the video will be emailed to you and your DVDs will be despatched soon after. A copy of the DVD will be given to those who join you in this fantastic experience.
•

The birthday girl or boy will get the starring role
•

You choose the song you want to perform to
•

Latest green screen technology will be used to create amazing backgrounds
•

Price includes up to 10 guests (extra guests can be added at a nominal extra cost)
•

Between 1 hour 45 minutes to 2 hours long
•

Experienced Director and Choreographer
•

A personalised DVD for everybody who takes part
•

No singing required - just great miming and performing

Not sure what song to choose from? Just contact us and we can make some suggestions. Once the song choice has been made, we can advise on what best to wear and suggest any props so you are fully prepared to get the most from your shoot.
This unique party experience will cost just £270. Of course if you want to add guests or have any special requests just let us know and we will tell you how much extra it will cost.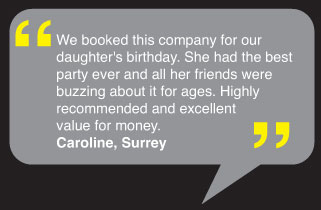 Click on the image to watch the full video